We've had such a packed weekend this week it feels almost impossible to remember back to the start of the week.
Not too much happened this week after work since we've mainly been getting ready for one of my oldest friends Karen and her family to come and stay at the weekend. I did have a bit of fun on Monday trying out new nail styles with these Maybelline nail polishes that I picked up from Tesco on a 2-for-£5 deal. It's still a novelty actually having nails that can be painted.
Tuesday involved a little bit of flower decorating plus rummaging around for things for our guests – somehow we've gone from a 2 bed house to a 4 bed house but none of our spare rooms are really properly equipped yet to have people staying so we turned to our trusty inflatable mattress which we keep in a suitcase, in our sauna (!) in our garage. I don't go in the sauna much and most of the time forget it's even there so it always makes me chuckle when I'm reminded how random it is.
The best thing about Wednesday was wearing this leather jacket to work and having my lovely colleagues being so kind about it! My Mum gave it to me about 3 years ago on the premise that she bought it for herself but it didn't fit and it's been hanging unworn in my cupboard ever since. I wasn't sure about the style but now it's love.
A little bit of gardening when I came home including finding a home for this sweet herb garden my Mum gave us and a blackberry check – it seems really early for blackberries this year but I'll be picking the first batch in a few days for blackberry crumble.
Thursday and Friday I worked from home this week, popping into Bromley on Thursday to switch library books. How pretty is the cover? I know not to judge and all that, but well, how else is a girl to choose? The pooches kept me busy too 😉
And Friday finally came and with it our friends for the weekend. Karen blogs over at Missing Sleep about her life as a mum of 2 boys in North Wales. We met in our last year at Lancaster Uni after she did her third year in industry as part of her degree, and I spent my second year living and studying in the US as part of my degree. We had rooms opposite each other and became instant friends a long 15 years ago.
Pete and I are now godparents to her two boys and although we don't all get round to seeing each other anywhere near enough, it's always so much fun when we do. They arrived early Friday evening and we tucked into takeaway pizza at home whilst watching Indiana Jones which they'd never seen before so a proper treat.
Saturday we were up early for a day of adventures in London. Pete had to stay at home to be on dog duty since I won't leave them on their own for 10 hours (lots would I'm sure but it's not for us) so Karen, her hubby, the boys and I made our way into town where we headed to the new Shrek's Adventure experience at County Hall before they went on the London Eye. After that we walked across the river and up to Ripley's Believe It or Not at Piccadilly Circus before heading to M&M World.
It's so eye-opening to me seeing London from a child's perspective, not only do we never go into town on a Saturday afternoon but we tend to steer clear of any child-focused attractions and even I was over-whelmed at how busy it was. NEVER go to M&M World unless it has just opened or is just closing. WHY this place is so popular I'll never know. Shrek's Adventure though was a lot of fun and we came back exhausted before a cheeky dinner from the fish & chip shop.
Sadly Sunday was around all too quickly and after a play in the park, walking the dogs and stopping for bacon sandwiches before heading up to Elmstead Woods to go gnome-house hunting, it was time for them to set off for the next part of their little summer holiday adventure. It's been a super weekend but I'm not ashamed to say left us all a little bit tired…
Hope you've had a lovely week X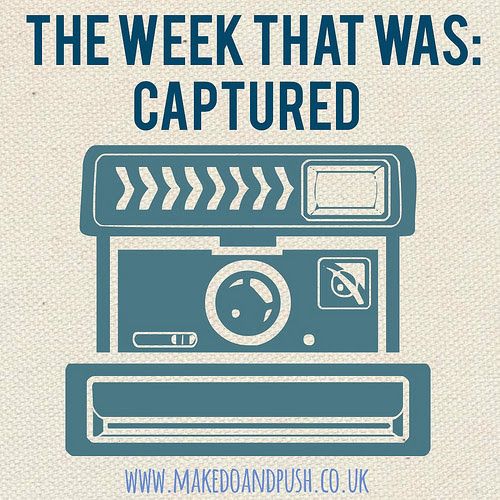 Click here to visit our webshop, DaisychainBaby