As I've been feverishly reading more and more blogs (it gets quite addictive so I've found..!) I've come across the really lovely idea of capturing memories of the week that's passed. It's so easy to ignore all the little things, living day to day without stopping to acknowledge that ray of sunshine, that train driver that said something funny. Kat from Kat Got The Cream and Hannah from Make, Do and Push both have lovely ways of capturing memories and have inspired me to do my own, a bit like an online journal. I'll try to publish every Monday for the previous week Monday to Sunday.
So here goes with Monday Catch Up #1:
Last Monday of course was a Bank Holiday which for me is like a bonus holiday day – I moan probably more than I should about having a full-time job but paid public holidays and paid days off are one of the many perks. We stupidly decided to head to IKEA as we're trying to find a storage unit to finish off our home office and wanted to either rule something in or rule something out. It was completely crazy and we decided we didn't like the unit we had gone to look at, but we did pick up some tasty cinnamon rolls and these pretty desk lamps from John Lewis Home.
Wednesday after work, two of my colleagues came home with me for dinner, drinks and movie night. We have a very small, close-knit team and it's genuinely more like going to work with friends than colleagues which is lovely. I got up early to do some veg preparation and rustled up a rice, king prawn, spinach and pepper salad as well as some cajun spiced sweet potato wedges, hummus, flat breads and olives. We then watched "How To Make An American Quilt" which is one of my absolute favourites from my teenage years. It's such a beautiful little independent film with some fab actors and lovely messages about the most unexpected places you find love and the journey it can take you on.
The best thing about Thursday was finally wearing this amazing top that I picked up from Camden ages ago but hadn't found the right weather to wear it. I'm glad we don't have a dress code at work…
On Friday I worked from home (Thursday is normally my work from home day) as my Mum and Stepdad came to collect their labrador Tilly who we'd been dog-sitting whilst they'd been in Barcelona. It was lovely to catch up with them and hear about their holiday. Look at these beautiful flowers my Mum bought me to say thank you.
Saturday was cleaning day (reluctantly, because as this post shows I hate housework) but after 10 days of having two dogs around the place instead of just one, the house was in dire need of a deep-clean. Thankfully the weather was perfect so I threw open the doors and got my Marigolds on. In the evening we went to the cinema to see French film "The Connection", it feels like ages since we'd had a date night. We have membership of the Picturehouse chain and there's one in Greenwich which we love that's about a 15 minute drive from home, with a car park right behind hit that's free after 6.30pm – as London residents we're a little obsessed with parking, it's generally either horrendously expensive, non-existent or both.
I loved the film, a 1970's-set thriller loosely based on real events where Jean Dujardin plays an ingenue magistrate determined to clean up Marseille's streets from rampant drug problems whilst taking on his Mafia adversary and corruption higher up the chain. Very stylish and well, it doesn't hurt to spend a couple of hours gazing at the very charismatic Mr Dujardin *swoons*.
Sunday was a lazy day, we took the dog for a walk and then popped into Bromley to get some bits for Pete's fancy dress outfit for a 1950s themed wedding we're going to next weekend. Success! In the afternoon I did a bit of DaisychainBaby work and finally dragged myself back to running. It's been about 4 weeks since I last ran and I was really dreading getting my trainers on again but I've lost 4-5lbs in that time and I actually felt like I was flying round the park. What a difference losing that little bit of extra weight made.
I hope you all had a lovely week x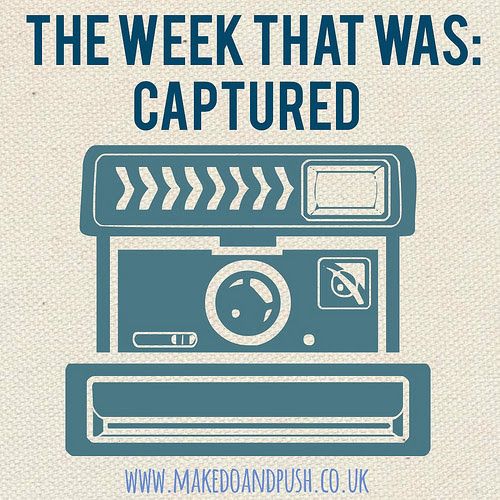 Click here to visit our webshop, DaisychainBaby.co.uk